On this page, ASA's managed template "Movie" is used. It is specialized for displaying movie data, like actors, director, running time and so on. It is customizable so that you can decide how it should look like and which information to show.
Main features
Specialized for rendering movies
Responsive design
Customizable without programming skills
Example
This first example is built with the following shortcode:
[

asa2

tpl

=

"Movie"

]

B00NYC7FWM

[

/

asa2

]
As of: 2016/10/14 9:39 am
Studio: Universal
Format: Blu-ray
Actors: Sandra Bullock, Jon Hamm, Pierre Coffin, Chris Renaud, Steve Carell
Running time: 91 minutes
Release date: December 8, 2015
Customization
On ASA 2's admin page "Templates" you can customize the general options of template "Book". These settings will effect every usage of this template.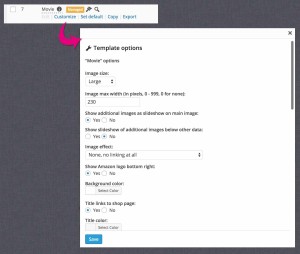 Shortcode options
Besides the general settings, it is possible to overwrite template options per shortcode.
For example, to show a red "border_color" instead of the globally configured color, this shortcode would make the difference:
| | |
| --- | --- |
| | [asa2 tpl="Movie" border_color="red"]B00NYC7FWM[/asa2] |
Or to load a different image size than the generally configured, use option "image_size":
| | |
| --- | --- |
| | [asa2 tpl="Movie" image_size="medium"]B00NYC7FWM[/asa2] |
Following you find a list of all available shortcode options for template "Movie":
Option
Type
Values
Description
align
string

"none" (None)
"left" (Left)
"center" (Center)
"right" (Right)

Align
max_width
int
0 between 9999
Max width (used when align is not none)
image_size
string

"small" (Small)
"medium" (Medium)
"large" (Large)

Image size
image_max_width
int
0 between 999
Image max width (in pixels, 0 - 999, 0 for none)
main_image_slideshow
bool
"yes" / "no"
Show additional images as slideshow on main image
slideshow
bool
"yes" / "no"
Show slideshow of additional images below other data
slideshow_max
int
0 between 999
Maximum slideshow items (0 = all)
image_effect
string

"0" (None, no linking at all)
"lightbox" (Add lightbox tag and link to large version)
"imgpreview" (Image preview to large version on mouse hover)
"link_to_shoppage" (Image links to shop page)

Image effect
amazon_logo
bool
"yes" / "no"
Show Amazon logo bottom right
disclaimer
string

"none" (None)
"asterisk_and_text" (Asterisk in title link and button. Disclaimer text in each template.)
"asterisk_only" (Asterisk in title link and button. No disclaimer text.)

Disclaimer
background_color
string
CSS compatible color value, like hex values (#ff0000) or color names (red)
Background color
title_link_to_shop_page
bool
"yes" / "no"
Title links to shop page
title_color
string
CSS compatible color value, like hex values (#ff0000) or color names (red)
Title color
title_font_size
int
1 between 500
Title font size (in percent)
border_width
int
0 between 99
Border width (in pixels, 0 for no border)
border_radius
int
0 between 99
Border radius (in pixels, > 0 for rounded corners)
border_color
string
CSS compatible color value, like hex values (#ff0000) or color names (red)
Border color
box_effect
string

"0" (None)
"1" (Raised box look)
"2" (Lifted corner look bottom left and right)
"3" (Lifted corner look bottom left)
"4" (Lifted corner look bottom right)
"5" (Lifted corners with increased angles)
"6" (Curved shadow at the bottom of the box)
"7" (Curved shadow at the top and bottom of the box)
"8" (Rounded shadows on either side of the box)

Box shadow effect
show_new_and_used_prices
bool
"yes" / "no"
Show new and used prices
show_buy_button
bool
"yes" / "no"
Show buy button
button_target
string

"shop" (Shop page)
"buy" (Buy page)

Button target
show_features
bool
"yes" / "no"
Show product features (if available)
features_font_size
int
1 between 100
Features font size (in percent)
show_description
bool
"yes" / "no"
Show movie description (if available)
description_font_size
int
1 between 100
Movie description font size (in percent)
font_size_smaller
int
1 between 100
Smaller font size (in percent)
font_size_smallest
int
1 between 100
Smallest font size (in percent)
price_color
string
CSS compatible color value, like hex values (#ff0000) or color names (red)
Price color
hide_price
bool
"yes" / "no"
Hide price(s)
show_studio
bool
"yes" / "no"
Show studio
show_format
bool
"yes" / "no"
Show format (Blu-ray, DVD etc.)
show_actors
bool
"yes" / "no"
Show actors
show_director
bool
"yes" / "no"
Show director
show_running_time
bool
"yes" / "no"
Show running time
show_languages
bool
"yes" / "no"
Show languages
show_audience_rating
bool
"yes" / "no"
Show audience rating
show_release_date
bool
"yes" / "no"
Show release date
release_date_format
string
custom text
Release date format (supports format of PHP date function)
show_last_update
bool
"yes" / "no"
Show date of last item update
last_update_format
string
custom text
Last item update date format (supports format of PHP date function)
More examples
As of: 2016/10/14 9:39 am
Studio: Universal Studios Home Entertainment
Format: Blu-ray
Actors: Chris Pratt, Bryce Dallas Howard, Vincent D'Onofrio, Ty Simpkins, Nick Robinson
Running time: 250 minutes
Release date: October 20, 2015
(* = affiliate link / image source: Amazon partner program)
As of: 2016/10/14 9:39 am
Studio: Paramount
Format: Blu-ray
Actors: Harrison Ford, Karen Allen, Paul Freeman, John Rhys-Davies, Sean Connery
Running time: 481 minutes
Release date: September 18, 2012
Raiders of the Lost Ark
It's said that the original is the greatest, and there can be no more vivid proof than
Raiders of the Lost Ark
, the first and indisputably best of the initial three Indiana Jones adventures cooked up by the dream team of Steven Spielberg and George Lucas. Expectations were high for this 1981 collaboration between the two men, who essentially invented the box office blockbuster with '70s efforts like
Jaws
and
Star Wars
, and Spielberg (who directed) and Lucas (who co-wrote the story and executive produced) didn't disappoint. This wildly entertaining film has it all: non-stop action, exotic locations, grand spectacle, a hero for the ages, despicable villains, a beautiful love interest, humor, horror… not to mention lots of snakes. And along with all the bits that are so familiar by now--Indy (Harrison Ford) running from the giant boulder in a cave, using his pistol instead of his trusty whip to take out a scimitar-wielding bad guy, facing off with a hissing cobra, and on and on--there's real resonance in a potent storyline that brings together a profound religious-archaeological icon (the Ark of the Covenant, nothing less than "a radio for speaking to God") and the 20th century's most infamous criminals (the Nazis). Now
that's
entertainment.
--Sam Graham

Temple of Doom


It's hard to imagine that a film with worldwide box office receipts topping $300 million worldwide could be labeled a disappointment, but some moviegoers considered
Indiana Jones and the Temple of Doom
, the second installment in Steven Spielberg and George Lucas' 1980s adventure trilogy, to be just that. That doesn't mean it's a bad effort; any collaboration between these two cinema giants (Spielberg directed, while Lucas provided the story and was executive producer) is bound to have more than its share of terrific moments, and
Temple of Doom
is no exception. But in exchanging the very real threat of Nazi Germany for the cartoonish Thuggee cult, it loses some of the heft of its predecessor (
Raiders of the Lost Ark
); on the other hand, it's also the darkest and most disturbing of the three films, what with multiple scenes of children enslaved, a heart pulled out of a man's chest, and the immolation of a sacrificial victim, which makes it less fun than either
Raiders
or
The Last Crusade
, notwithstanding a couple of riotous chase scenes and impressively grand sets. Many fans were also less than thrilled with the new love interest, a spoiled, querulous nightclub singer portrayed by Kate Capshaw, but a cute kid sidekick ("Short Round," played by Ke Huy Quan) and, of course, the ever-reliable Harrison Ford as the cynical-but-swashbuckling hero more than make up for that character's shortcomings.
A six-minute introduction by Lucas and Spielberg is the prime special feature, with both men candidly addressing the film's good and bad points (Lucas points out that the second Star Wars film, The Empire Strikes Back, was also the darkest of the original three; as for Spielberg, the fact that the leading lady would soon become his wife was the best part of the whole trip). Also good are "The Creepy Crawlies," a mini-doc about the thousands of snakes, bugs, rats and other scary critters that populate the trilogy, and "Travels with Indy," a look at some of the films' cool locations. Storyboards and a photo gallery are included as well. --Sam Graham
Last Crusade
Not as good as the first one, but better than the second. That's been the consensus opinion regarding Indiana Jones and the Last Crusade, the final installment in Steven Spielberg and George Lucas' original adventure trilogy, throughout the nearly two decades since its 1989 theatrical release. It's a fair assessment. After the relatively dark and disturbing Temple of Doom (1984), The Last Crusade (1989) recalls the sheer fun of Raiders of the Lost Ark (1981). With its variety of colorful locations, multiple chase scenes (the opening sequence on a circus train, with River Phoenix as the young Indy, is one of the best of the series, as is the boat chase through the canals of Venice), and cloak-and-dagger vibe, it's the closest in tone to a James Bond outing, which director Spielberg has noted was the inspiration for the trilogy in the first place; what's more, it harkens back to Raiders in its choice of villains (i.e., the Nazis--Indy even comes face to face with Hitler at a rally in Berlin) and its quest for an antiquity of incalculable value and significance (the Holy Grail, the chalice said to have been the receptacle of Christ's blood as he hung on the cross). Add to that the presence of Sean Connery, playing Indy's father and having a field day opposite Harrison Ford, and you've got a most welcome return to form.
Special features include a six-minute introduction by Spielberg and Lucas, who discuss the grail as a metaphor for bringing Indy and his estranged father together and agree that Crusade is the funniest of the three films; "Indy's Women," an American Film Institute tribute with leading ladies Karen Allen, Kate Capshaw, and Alison Doody each discussing her character (Capshaw candidly describes Temple of Doom's Willie Scott as "whiny, petulant, and annoying"); "Indy's Friends and Enemies," a look at the films' various villains and sidekicks; plus storyboards and photo galleries. --Sam Graham
Kingdom of the Crystal Skull
Nearly 20 years after riding his last Crusade, Harrison Ford makes a welcome return as archaeologist/relic hunter Indiana Jones in Indiana Jones and the Kingdom of the Crystal Skull, an action-packed fourth installment that's, in a nutshell, less memorable than the first three but great nostalgia for fans of the series. Producer George Lucas and screenwriter David Koepp (War of the Worlds) set the film during the cold war, as the Soviets--replacing Nazis as Indy's villains of choice and led by a sword-wielding Cate Blanchett with black bob and sunglasses--are in pursuit of a crystal skull, which has mystical powers related to a city of gold. After escaping from them in a spectacular opening action sequence, Indy is coerced to head to Peru at the behest of a young greaser (Shia LaBeouf) whose friend--and Indy's colleague--Professor Oxley (John Hurt) has been captured for his knowledge of the skull's whereabouts. Whatever secrets the skull holds are tertiary; its reveal is the weakest part of the movie, as the CGI effects that inevitably accompany it feel jarring next to the boulder-rolling world of Indy audiences knew and loved. There's plenty of comedy, delightful stunts--ants play a deadly role here--and the return of Raiders love interest Karen Allen as Marion Ravenwood, once shrill but now softened, giving her ex-love bemused glances and eye-rolls as he huffs his way to save the day. Which brings us to Ford: bullwhip still in hand, he's a little creakier, a lot grayer, but still twice the action hero of anyone in film today. With all the anticipation and hype leading up to the film's release, perhaps no reunion is sweeter than that of Ford with the role that fits him as snugly as that fedora hat. --Ellen A. Kim

(* = affiliate link / image source: Amazon partner program)
As of: 2016/10/14 9:39 am
Studio: NEW LINE HOME VIDEO
Format: Blu-ray
Actors: Elijah Wood, Ian McKellen, Viggo Mortensen, Sean Astin, Liv Tyler
Running time: 681 minutes
Release date: May 1, 2012
As the triumphant start of a trilogy,
The Lord of the Rings: The Fellowship of the Ring
leaves you begging for more. By necessity, Peter Jackson's ambitious epic compresses J.R.R. Tolkien's classic
The Lord of the Rings
, but this robust adaptation maintains reverent allegiance to Tolkien's creation, instantly qualifying as one of the greatest fantasy films ever made. At 178 minutes, it's long enough to establish the myriad inhabitants of Middle-earth, the legendary Rings of Power, and the fellowship of hobbits, elves, dwarves, and humans--led by the wizard Gandalf (Ian McKellen) and the brave hobbit Frodo (Elijah Wood)--who must battle terrifying forces of evil on their perilous journey to destroy the One Ring in the land of Mordor. Superbly paced, the film is both epic and intimate, offering astonishing special effects and production design while emphasizing the emotional intensity of Frodo's adventure, and ends on a perfect note of heroic loyalty and rich anticipation.
After the breaking of the Fellowship, Frodo and Sam journey to Mordor with the creature Gollum as their guide in The Two Towers. Meanwhile, Aragorn (Viggo Mortensen), Legolas (Orlando Bloom), and Gimli (John Rhys-Davies) join in the defense of the people of Rohan, who are the first target in the eradication of the race of Men by the renegade wizard Saruman (Christopher Lee) and the dark lord Sauron. Fantastic creatures, astounding visual effects, and a climactic battle at the fortress of Helm's Deep make The Two Towers a worthy successor to The Fellowship of the Ring, grander in scale but retaining the story's emotional intimacy.
With The Return of the King, the greatest fantasy epic in film history draws to a grand and glorious conclusion. The trilogy could never fully satisfy those who remain exclusively loyal to Tolkien's expansive literature, but as a showcase for physical and technical craftsmanship it is unsurpassed in pure scale and ambition, setting milestone after cinematic milestone as Frodo and Sam continue their mission to Mordor to destroy the soul-corrupting One Ring. While the heir to the kingdom of Men, Aragorn, endures the massive battle at Minas Tirith with the allegiance of Legolas, Gimli, and Gandalf, Frodo and Sam must survive the schizoid deceptions of Gollum, who remains utterly convincing as a hybrid of performance (by Andy Serkis) and subtly nuanced computer animation. Jackson and cowriters Fran Walsh and Philippa Boyens have much ground to cover; that they do so with intense pacing and epic sweep is impressive enough, but by investing greater depth and consequence in the actions of fellow hobbits Merry (Dominic Monaghan) and Pippin (Billy Boyd), they ensure that The Return of the King maintains the trilogy's emphasis on intimate fellowship and remains faithful to Tolkien's overall vision. By ending the LOTR trilogy with noble integrity and faith in the power of imaginative storytelling, The Return of the King, like its predecessors, will stand as an adventure for the ages. --Jeff Shannon and David Horiuchi
Our Review of the Extended Edition on DVD (Dec. 14, 2004):
The extended editions of Peter Jackson's The Lord of the Rings present the greatest trilogy in film history in the most ambitious sets in DVD history. In bringing J.R.R. Tolkien's nearly unfilmable work to the screen, Jackson benefited from extraordinary special effects, evocative New Zealand locales, and an exceptionally well-chosen cast, but most of all from his own adaptation with co-writers Fran Walsh and Philippa Boyens, preserving Tolkien's vision and often his very words, but also making logical changes to accommodate the medium of film. While purists complained about these changes and about characters and scenes left out of the films, the almost two additional hours of material in the extended editions (about 11 hours total) help appease them by delving more deeply into Tolkien's music, the characters, and loose ends that enrich the story, such as an explanation of the Faramir-Denethor relationship, and the appearance of the Mouth of Sauron at the gates of Mordor. In addition, the extended editions offer more bridge material between the films, further confirming that the trilogy is really one long film presented in three pieces (which is why it's the greatest trilogy ever--there's no weak link). The scene of Galadriel's gifts to the Fellowship added to the first film proves significant over the course of the story, while the new Faramir scene at the end of the second film helps set up the third and the new Saruman scene at the beginning of the third film helps conclude the plot of the second.
To top it all off, the extended editions offer four discs per film: two for the longer movie, plus four commentary tracks and stupendous DTS 6.1 ES sound; and two for the bonus material, which covers just about everything from script creation to special effects. The argument was that fans would need both versions because the bonus material is completely different, but the features on the theatrical releases are so vastly inferior that the only reason a fan would need them would be if they wanted to watch the shorter versions they saw in theaters (the last of which, The Return of the King, merely won 11 Oscars). The LOTR extended editions without exception have set the DVD standard by providing a richer film experience that pulls the three films together and further embraces Tolkien's world, a reference-quality home theater experience, and generous, intelligent, and engrossing bonus features. --David Horiuchi
(* = affiliate link / image source: Amazon partner program)