On this page, ASA's managed template "Columns_layout" is used. It is specialized for displaying multiple products in columns. It works perfectly with ASA 2 collections or smart collections. It is customizable in general and per shortcode.
Main features
Specialized for rendering multiple products in columns
Responsive design
Adjustable columns count per screen width
Customizable without programming skills
Example
This first example is built with the following shortcode:

[

asa2_smart_collection

cat_slug

=

"demo-products"

limit

=

"4"

tpl

=

"Columns_layout"

orderby

=

"rand"

/

]
Customization
On ASA 2's admin page "Templates" you can customize the general options of template "Columns_layout". These settings will effect every usage of this template.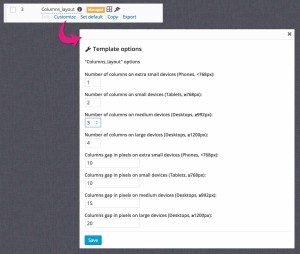 Shortcode options
Besides the general settings, it is possible to overwrite template options per shortcode.
For example, to show 6 columns on large devices instead the generally configured amount, this shortcode would make the difference:

[

asa2_smart_collection

cols_lg

=

"6"

cat_slug

=

"demo-products"

/

]

Or to render 2 columns on extra small devices instead of the generally configured amount, use option "cols_sm":

[

asa2_smart_collection

cols_xs

=

"2"

cat_slug

=

"demo-products"

/

]

Following you find a list of all available shortcode options for template "Columns_layout":
| Option | Type | Values | Description |
| --- | --- | --- | --- |
| item_tpl | string | custom text | Name of the template to use for rendering the single items. |
| cols_xs | int | 1 between 99 | Number of columns on extra small devices (Phones, <768px) |
| cols_sm | int | 1 between 99 | Number of columns on small devices (Tablets, ≥768px) |
| cols_md | int | 1 between 99 | Number of columns on medium devices (Desktops, ≥992px) |
| cols_lg | int | 1 between 99 | Number of columns on large devices (Desktops, ≥1200px) |
| gap_xs | int | 0 between 999 | Columns gap in pixels on extra small devices (Phones, <768px) |
| gap_sm | int | 0 between 999 | Columns gap in pixels on small devices (Tablets, ≥768px) |
| gap_md | int | 0 between 999 | Columns gap in pixels on medium devices (Desktops, ≥992px) |
| gap_lg | int | 0 between 999 | Columns gap in pixels on large devices (Desktops, ≥1200px) |
More examples
[

asa2_smart_collection

tpl

=

"Columns_layout"

orderby

=

"rand"

limit

=

"6"

item_tpl

=

"Horizontal_box"

border_width

=

"4"

image_size

=

"medium"

show_description

=

"no"

main_image_slideshow

=

"no"

/

]
---